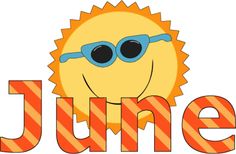 The
1. 
First Grade Page
Week of June 5th – June 9th
M.O.N.S.T.E.R.S.
(Magnificent, Outstanding, Nice, Special, Terrific, Energetic, Responsible Students)
Math
Math Mysteries
Math Games
Reading :  Reading Street
Unit 5 Benchmark Test
End of the year Benchmark Test
I Spy Summer Edition – review of nouns, verbs, adjectives, and types of sentences
Reading Passages:  Ladybugs (non-fiction)
                                   Lucy loves math (fiction)
                                   Motion (non-fiction)
                                   The Rollercoaster (fiction)
Nate the Great Mysteries
Fairy Tales –  The students will be writing their own fairy tales.
Social Studies
The students will be completing their map skills books.
Homework
No Homework
Updates
Baccalaureate – Sunday, June 4th
Class Night – Wednesday, June 7th
Field Trip – Friday, June 9th
Pittsburg Graduation – Saturday, June 10th (9:00)
Kindergarten Graduation – Tuesday, June 13th
This will be our last newsletter!  Have a wonderful summer!